Modular Home Extensions
Contemporary design, SIPs & cost saving measures.
With modern technology, many people now have the option (and indeed employers are encouraging) staff to work from home.
Our products can provide a comfortable, secure and professional working environment – with all the home comforts and without the travel stress associated with getting to and from the city office. This allows you to spend more time with your family and often brings balance back to your family/work life.
Or.. you may simply want to indulge yourself in more leisure space, or to dine with a panoramic view of your garden and reduce the pressures of modern day living. Other popular alternative uses for and extension may include an internet/games room, a personal gym, or even an artist or music studio and unearth that forgotten talent.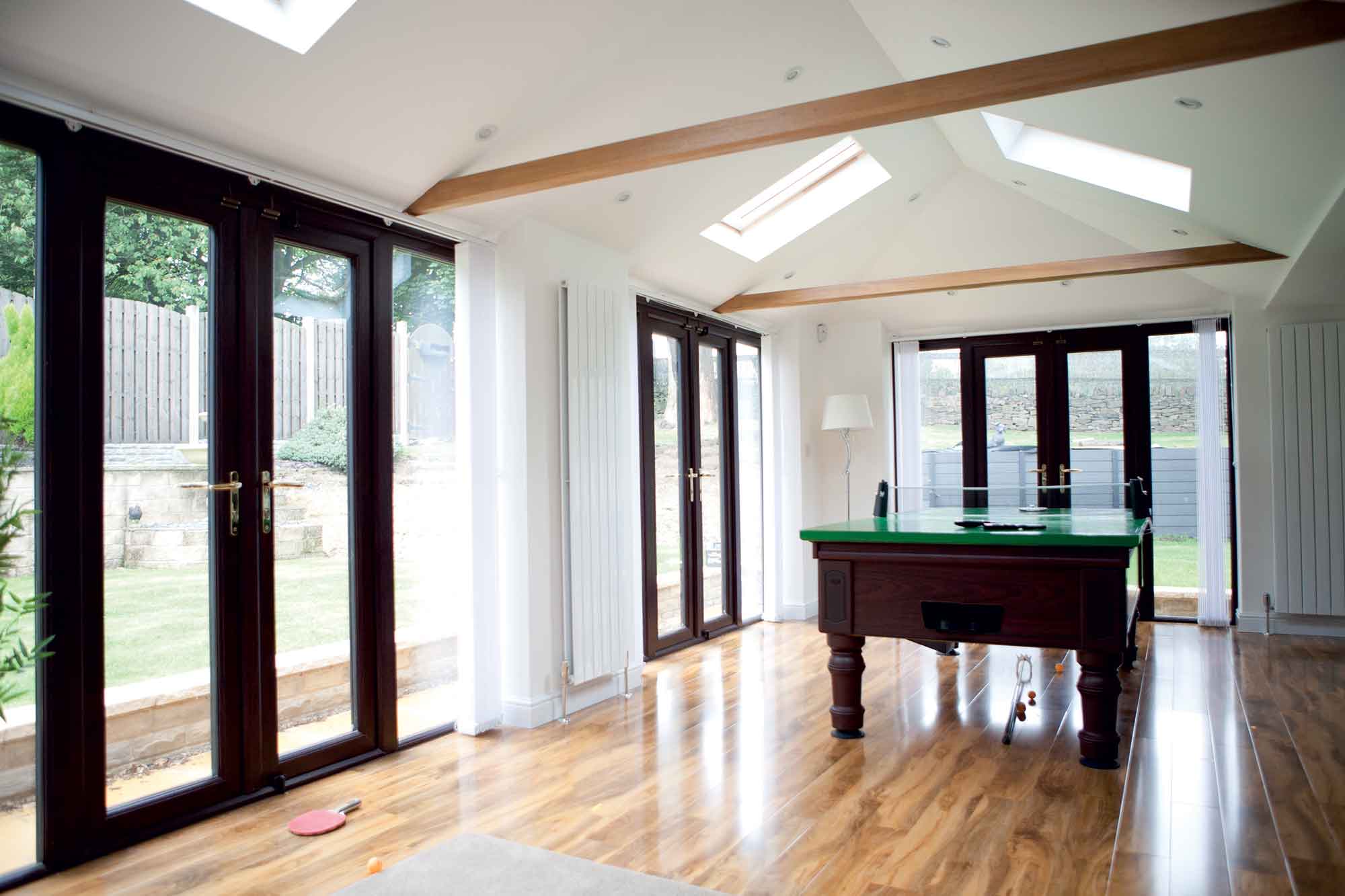 We use SIP panels to pre-fabricate as much of our home extensions as possible before being delivered to your home or site.
This way of building is widely used throughout America and Europe and is quickly gaining popularity in the UK as being the most economical way of meeting the new standards set out in 
Part

 

L of

 

the

 

Building

 

Regulations

, which focus heavily on the consumption of fuel and power. A 

SIP home extension

 is an advanced, highly regarded, modern timber construction
Pre-assembled, factory – engineered modular construction

Superior build quality

Faster modern methods of construction

Accelerated planning approval

High-performance insulation provides superior energy savings

Zero on-site waste

A wide range of colours and finishes available

Bespoke design service

Technical support from start to finish

Fully guaranteed
Installation only takes a few days and is completed with minimum disruption to your home.
30% on-site labour cost savings
Each home extension is engineered precisely to your individual requirements and pre-assembled under controlled factory conditions.
It's been independently proven that you can save money on energy bills through the use of our high performance insulation systems.
Eco Friendly, Energy Efficient, Quick Construction!
A SIP home extension is constructed by seamlessly interlocking the boards and joining them with sealant and splines of OSB. This ensures that no air or heat can pass between them and therefore provides a massively insulated home extension which is environmentally friendly, cuts energy bills and greatly reduces green house emissions (CO2). You will have better control over your air quality as the structure will keep out allergens, dust and even humidity – this can be vital in controlling health issues such as asthma.
The lightweight nature of the panels reduces heavy foundation works and means that most of your home extension can be constructed in our factory and delivered to you, speeding up the whole process and minimising the waste on site – in all, up to 35% fewer raw materials are used in SIPS buildings.
Excellent Insulating Properties
SIP panels have some of the lowest U Values (measure of heat flow) of any building material, therefore giving you a SIP home extension that is massively insulated. The seamless way in which the panels are interlocked reduces the presence of cold spots so your home extension is warm and cosy; and can be made fully habitable.
Flexibility of Design
With a SIP construction we can be flexible with our designs, so you can be guaranteed an individual build that can be constructed in even the most awkward or small space. View our range of products for full details about what we can offer you
A choice of external finishes