Air-sourced Heat Pumps
One of the most advanced heating systems for homeowners and businesses, with A++ ErP rating across the range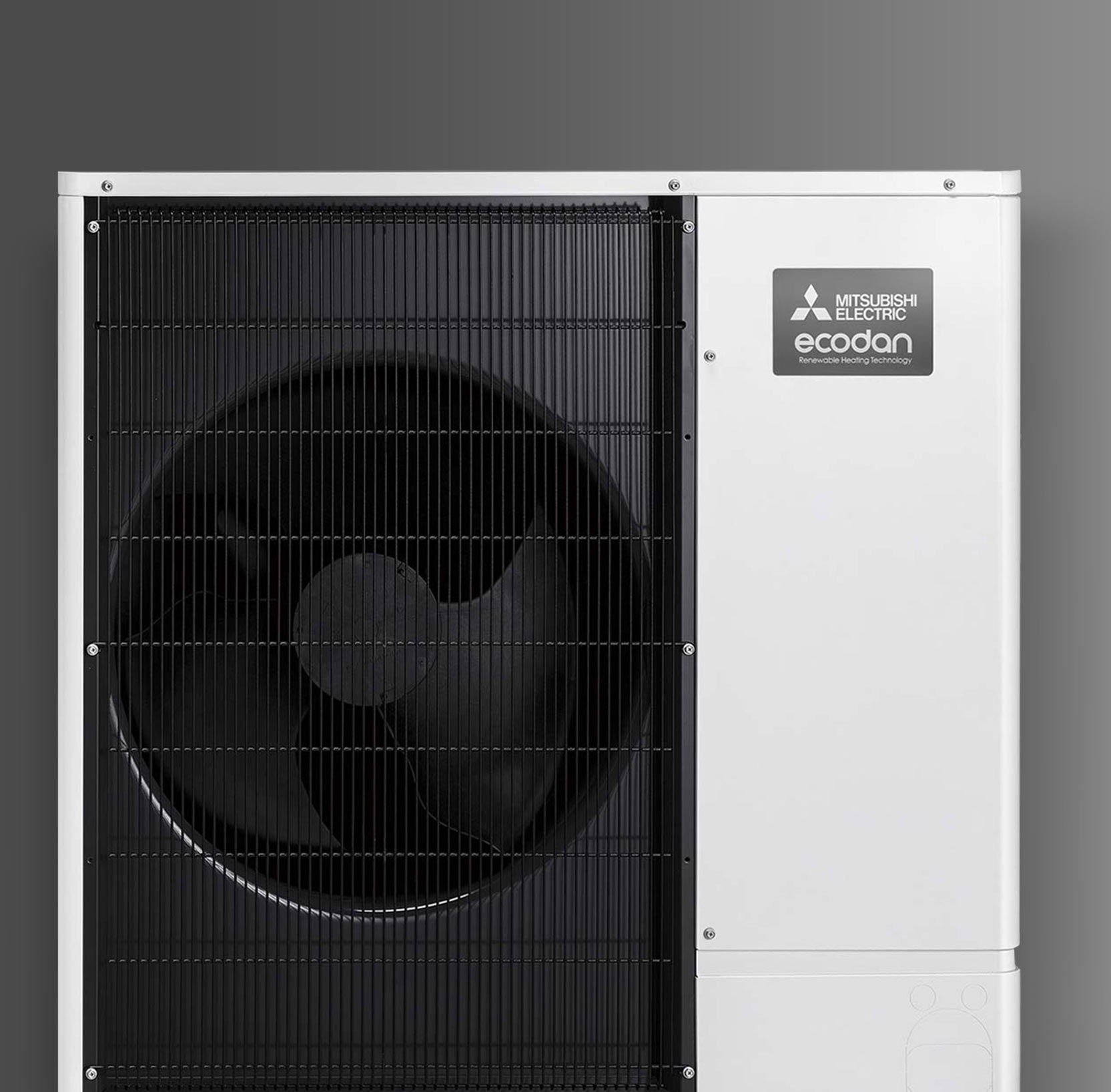 From small flats to large detached houses, and from an office block to a school, Ecodan air source heat pumps are the renewable, low carbon alternative to traditional high carbon heating systems.
This reliable, renewable heating technology delivers highly efficient sustainable space heating and hot water all year round.
Intelligent heating
The Mitsubishi Electric range of Ecodan air source heat pumps is one of the most advanced heating systems available for homeowners and businesses. With an A++ ErP Energy Rating Label across the range, this is the ideal clean and green intelligent heating solution.
The entire line up is also certified by the Microgeneration Certification Scheme (MCS) which certifies that it's an intelligent technology that produces heat from a renewable source. This is a key requirement in applying for payments from the Government's Renewable Heat Incentive.
Highly versatile and compatible
Whether installed in small flats, or large detached properties, Ecodan can reduce running costs, lower CO2 emissions and offer reliable, sustainable heating and hot water all year around for the majority of homes and small commercial properties.
Ecodan can be installed to replace an existing heating system or work alongside it in a hybrid set up. It can be installed into a new build or renovation project and is even compatible with under floor heating. It is also simpler to maintain than other heating systems such as gas, and with professional maintenance it can offer an average lifespan of 15 to 20 years.
Reduce CO2 emissions and Save on running costs
Ecodan air source heat pumps have achieved the highest band of true efficiency as part of European regulations for Energy labelling and EcoDesign. The A++ rating means extremely energy efficient, making Ecodan effective in saving on running costs and efficient in reducing CO2 emissions.
Advance energy monitoring
Energy monitoring comes as standard on all Ecodan models. Mitsubishi Electric has also developed Energy Monitoring Packs (EMP's) to suit every domestic application. These packs are ideal for users needing exact consumption figures, such as housing associations. They also help with payback claims for government incentives like the Renewable Heat Incentive (RHI) and Metering and Monitoring Service Packs (MMSP).
Service and maintenance
Mitsubishi Electric has developed a range of service and maintenance plans to support Ecodan heating systems and give homeowners, housing associations and self-builders affordable peace of mind.
Three levels of cover are available to provide the absolute confidence that the Ecodan heating system will be professionally maintained and, in the unlikely event of a fault, quickly repaired by our highly skilled engineers.
Claim money back with RHI and MMSP
The Renewable Heat Incentive is the world's first long term financial support for the generation of renewable heat. This scheme will pay money to homeowners, housing associations and self-builders who choose to install renewable technologies like Ecodan air source heat pumps. This creates a financial saving for the owner of the system and makes a contribution toward carbon reduction and renewable targets for the UK.
As part of the Renewable Heat Incentive, the Government has also financially incentivised the use of metering and monitoring service packs (MMSP). This means the owner of the system can receive an extra payment of £230 per annum over the 7 year length of the Renewable Heat Incentive. To have a pack fitted to your Ecodan system, please contact your installer.
How to Claim RHI
Download our Heat Pumps Brochure
Enter your details and we'll send a copy of our brochure straight to your inbox.