Solar Panel Installation Lincoln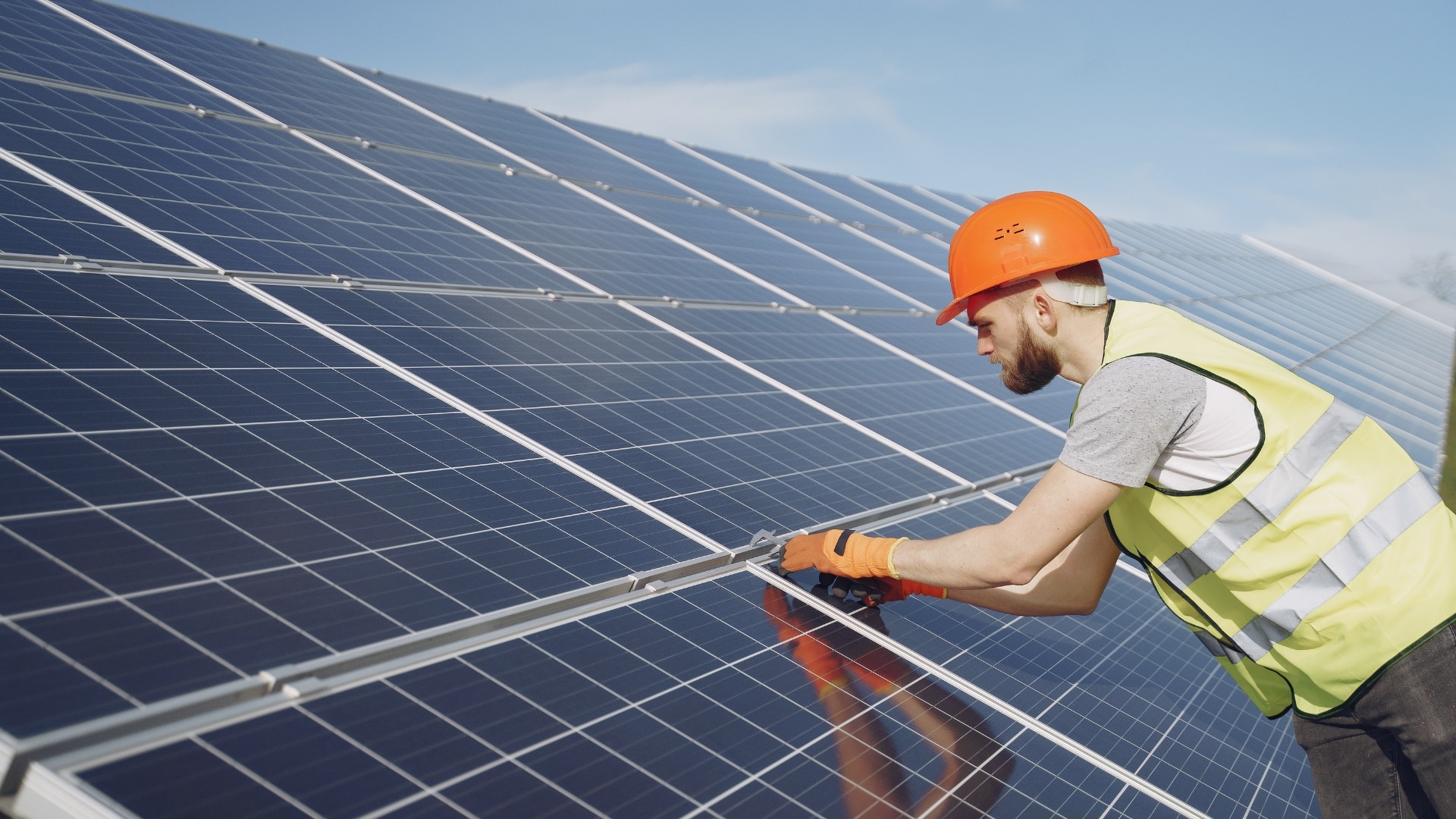 Solar installation specialists in Lincoln
Powering your world with the power of the sun
Solar panels use photovoltaic cells to turn sunlight into power. The cells in the solar panel absorb sunlight, turning it into direct-current electricity. Then, an inverter transforms this electricity into an alternating current.
Why should you use solar panels in Lincoln?
Lincoln has many bright days, making it a great place for solar panels. Installing solar panels has been proven to reduce electricity costs while raising local property values, making it a wise investment for any homeowner. Additionally, installing solar panels is a sustainable approach to lessen your carbon footprint and enhance your financial well-being.
Benefits of utilising solar panels
Solar panels are a great option for both households and businesses due to their many benefits. They produce renewable energy that lessens the need for fossil fuels and lowers greenhouse gas emissions. Solar panels can last for at least 25 years and require little maintenance. In addition, they offer potential tax credits as well as long-term cost savings from lower electricity bills.
Why switch to renewable energy
Making the switch to renewable energy for your home has many advantages. Renewable energy sources can assist in reducing greenhouse gas emissions because they are clean and don't have any negative health effects. Furthermore, because the price of rooftop solar panels and other renewable energy sources is continuing to drop over time, it might end up being more cost-effective in the long run. By utilising renewable energy in your home, you can also become independent from conventional power providers and their rising rates.
Why are solar panels effective in Lincoln?
Lincoln, in the east of England, is shifting towards renewable energy sources. Solar panels are becoming increasingly popular as one of the most efficient ways to generate clean energy and reduce carbon emissions. Lincoln receives plenty of sunshine throughout the year, making it an ideal location for solar panel installations.
Are solar panels a good investment in Lincoln?
Solar panels can be used to convert sunlight into electricity or heat that can be used by people or businesses both at home and at work. The installation is done by trained experts who will make sure that all safety regulations are followed and that the solar energy generated produces the greatest results. In addition, new technical developments have significantly increased the effectiveness and cost-effectiveness of solar panels, making them a great investment for both household and business owners.
Our recent clients have saved a yearly average of £958.92 on their energy bills by switching to a solar home
Find out how you could save by contacting us
FREE QUOTE
REQUEST A FREE QUOTE AND ONE OF OUR SOLAR SPECIALISTS WILL BE IN TOUCH ASAP TO DESCUSS HOW WE CAN HELP YOU SAVE MONEY WITH SOLAR ENERGY.
FREE ROOF SURVEY
ONE OF OUR TECHNICAL TEAM WILL VISIT YOUR PREMISE CAN CARRY OUT A FREE NO OBLIGATION SURVEY TO ENABLE CREATIV UK TO PROVIDE THE BEST SOLAR SYSTEM SUTIABLE FOR YOU
INSTALLATION
IF YOU DECIDE YOU'RE HAPPY TO MORE FORWARD ONE OF OUR QUALIFIED ENGINEERS WILL CARRY OUT THE INSTALLATION HASSLE FREE
What our clients think of us
Solar panels for our house were expertly installed by Creativ Energy to our total pleasure at a reasonable cost and with the least amount of disruption to us. It's a fantastic system, and it functions well. I highly recommend Creativ Energy.

James Brown
The entire service experience was excellent. Staff members are courteous, competent, and effective. Nothing could have gone more smoothly during the project.

Liv Johnson
I would recommend Creativ Energy since the entire experience—from the time I initially contacted them for a price to the actual installation—was excellent. The installers were polite and extremely educated, and everything was finished quickly and professionally. We are delighted with the new system we have.

Ben Taylor
Why you need solar panels in Lincoln
Installing solar panels is an efficient way to lower your energy expenses and utilise Lincoln's abundant sunshine. Lincoln solar panel installation can provide a number of financial and environmental advantages.
Installing solar panels initially lowers energy expenses since they generate electricity using the sun's free energy. Government subsidies are also available for sustainable energy investments, such as solar electricity. Because they require little-to-no maintenance after installation and no fuel, solar panels are a desirable long-term investment that increases the value of your home or business.
Additionally, using clean renewable energy is better for the environment than using conventional energy sources that rely on polluting fossil fuels like oil and gas.
Are solar panels are a great investment in Lincoln?
Services for solar panels can benefit both households and companies in a number of ways. They provide a method that is efficient and effective for converting solar energy into electricity, reducing reliance on conventional fuel sources and, in the long term, saving money on utility costs. Additionally, solar panel services are beneficial to the environment because they help to lower carbon emissions and promote the usage of sustainable energy sources like wind and solar energy. It's proven that investing in solar panel services can help both the environment and your finances in the long run.
Residents in Lincoln should think about installing solar panels to reduce their electricity costs and help the environment by reducing their carbon footprint. Depending on whether the Lincoln homeowner also installs a solar battery storage system, adding solar panels can reduce energy costs by up to 80%.
Solar panels are becoming more and more common in Lincoln as the importance of renewable energy sources increases. Installing solar panels is an effective strategy to reduce carbon emissions while also making use of the region's abundant sunlight. Both individuals and businesses are now looking towards solar as a way to reduce their electricity costs while also preserving the environment.
How do solar panels in Lincoln work?
The energy of the sun is captured and transformed by solar panels to produce electricity. Refrigerators, air conditioners, lamps, computers, and other electronic devices can all be powered by solar electricity. Creativ, based in Lincoln specialise in installing solar panels on homes and commercial buildings. Before starting any work, we will always do an initial assessment to determine whether your site is appropriate for the installation of solar panels.
Lincoln residents have an opportunity to make use of sustainable energy sources thanks to solar panels. They not only provide a more environmentally friendly way to power homes, businesses, and other organisations, but they also support lower costs and long-term financial savings. Installing solar panels is an investment that provides long-term electricity and helps to reduce carbon footprints. With no fuel costs and no maintenance needed, switching to renewable energy sources is now simpler than ever.