Infrared Heating
The modern heating solution
Far infrared heat is exactly the same sort of heat  emitted by the sun or a wood-burning stove.
It's a completely safe & efficient form of heat that
can be used in a variety of buildings.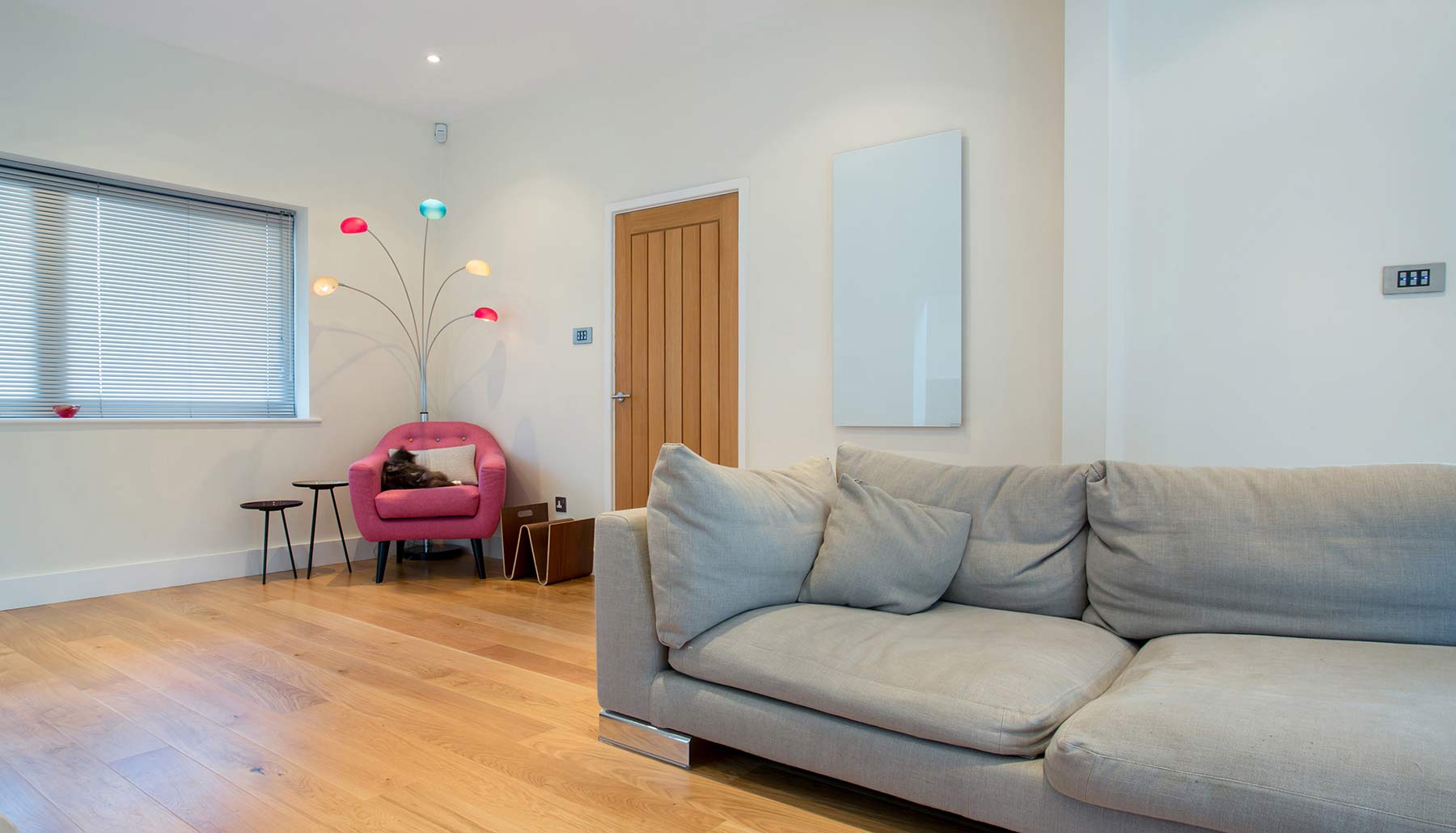 How is infrared heating different from conventional heating?
Conventional heaters such as radiators heat the air in a room – which rises and gathers at the ceiling.
Unlike traditional heating, Infrared heating doesn't heat or dry the air. Instead, infrared locks heat into objects, which slowly release pleasant warmth info the air. Infrared also prevents heat loss through ventilation or draughts, as there is no hot air to escape through opened doors or windows.
Heating rooms with a conventional heating system takes a lot more time and energy than infrared – which are clean, health beneficial and very efficient.
There is no more instant, economical, healthier and environmentally friendly way of heating!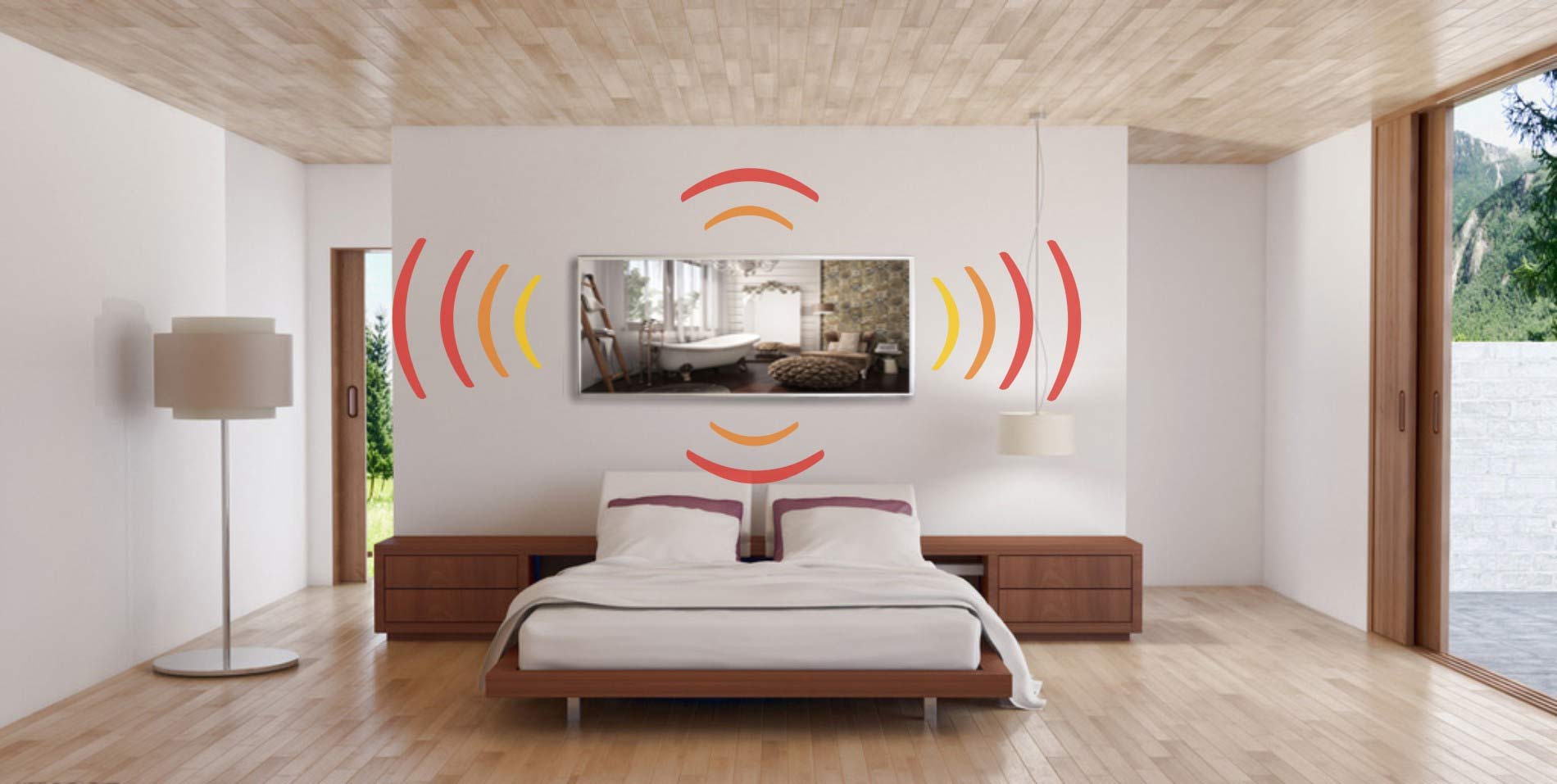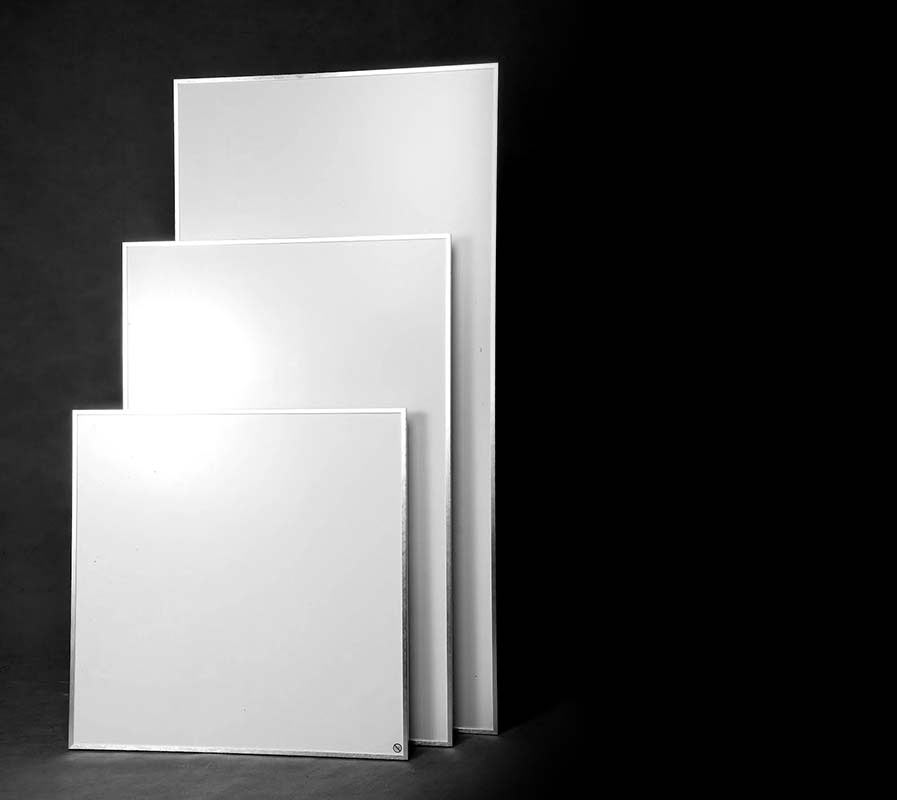 No gas? No problem!
For properties that have no access to gas, or for developers of new build homes, infrared heating is an excellent alternative.
Not only is it super effective at heating and can brighten up your home, but it is also a lot cheaper to install than other systems such as air source heat pumps.
Easy installation
Far infrared heating panels are simple to install. For white and picture panels, just hang them on the wall like ordinary pictures and plug into the nearest socket. They don't use as much wattage as ordinary electrical heater so is less likely to overload your electrical system.
For whole house, custom, commercial and ceiling fixed panels, it is best to hardwire. This can be done with plastic conduit or built into the ceiling/walls. For new builds, just fit at the time of construction along with the electrical wiring.
Use with Solar PV
Whether you are planning on installing or already have solar PV panels, infrared heaters are ideal to use alongside this system. This will help further reduce your carbon emissions as well as provide a free power for your heating!
Custom Image Printing
Whilst we offer a good range of picture panels, wouldn't it be great to have your own personal image printed on a heater? Well, now you can with our custom printing service.
And it gets even better; we can offer panels with changeable covers. So if you would like to change your image further down the line, you can order another cover with a new picture!
Simply take off the old cover and replace with the new.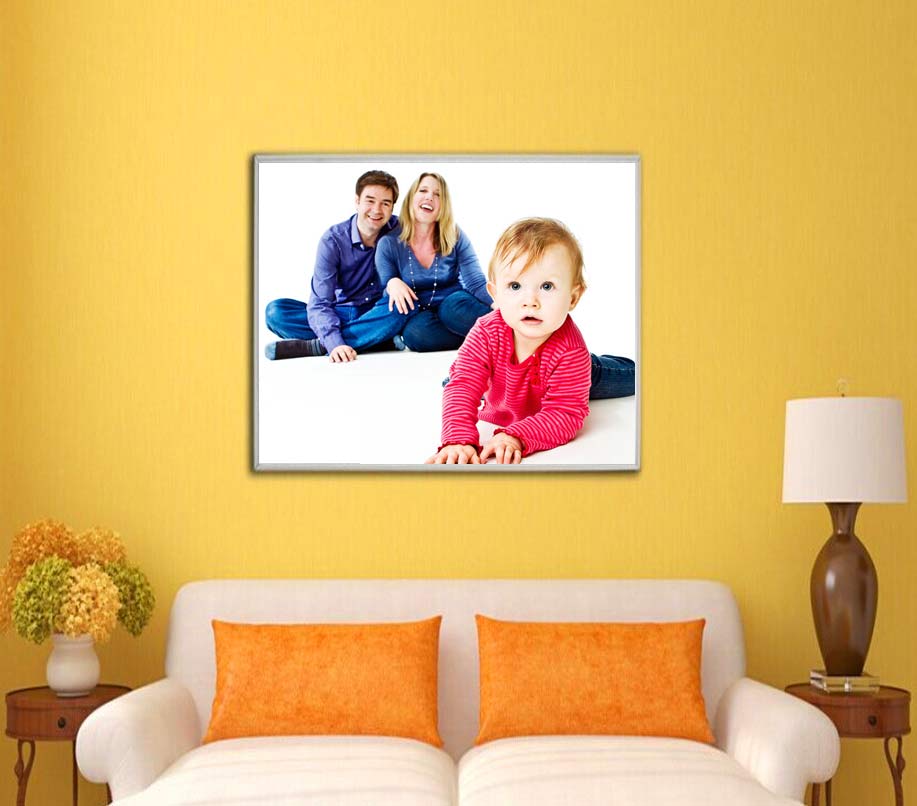 Our products
We hold large stocks of a variety of infrared heating products, usually for next day delivery.
Name
Size
Wattage

Premium White Panels

Premium white
600mm x 600mm
350W
600mm x 1000mm
600W
780mm x 1000mm
800W
1200mm x 1000mm
1200W

Premium Frameless Wall Panels

Premium Frameless wall
600mm x 600mm
280W
600mm x 800mm
450W
600mm x 1000mm
600W
800mm x 1200mm
900W
1000mm x 1200mm
1200W

Premium frameless ceiling panels

Premium Frameless ceiling
600mm x 600mm
280W
Premium Frameless ceiling
600mm x 1000mm
450W

Suspended ceiling grid panel

Suspended ceiling grid panel
595mm x 595mm
280W

Picture Panels

Buddha
600mm x 600mm
320w
Klimt Kiss
600mm x 600mm
320w
Klimt Adel Bauer
600mm x 600mm
320w
Flowers in Pale
600mm x 600mm
320w
Mulberry Tree
600mm x 600mm
320w
Woodland Trail
600mm x 1000mm
600w
Cinzano
600mm x 1000mm
600w
Orange Flower
600mm x 1000mm
600w
Green Forest
600mm x 1000mm
600w
Waterfall
600mm x 1200mm
700w
Palm Trees
600mm x 1200mm
700w
Colour Study Kandinsky
800mm x 1200mm
900w
Blue Jetty
600mm x 1000mm
600w
Get a quote
If you would like further information on our range of Infrared Heaters,
or would like a price quote then please get in touch via the form below.
Or you can call our team today on 0800 656 9997